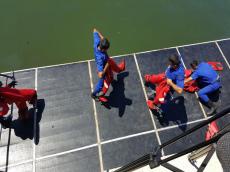 By Azernews
By Rashid Shirinov
The second stage of the Sea Cup – 2017 international contest, bringing together the Navies of Azerbaijan, Russia, Iran and Kazakhstan, was completed on August 8.
The ship crews fulfilled the episode "Contest on usage of rescue equipment" within the second stage of the contest held in the coastal waters of Azerbaijan.
Based on the decision of the international judging panel, the crew of the rocket and artillery ship Sariarka of the Kazakh Navy took first place by completing the exercise in 2 minutes and 13 seconds.
The crew of the G-124 patrol ship of the Azerbaijani Navy came second, crew of Russian Navy's small missile ship Grad Sviyazhsk got the third place, and the crew of the missile boat Joshan of the Iranian Navy was the fourth.
Today, crews of the warships of the four countries will enter the Caspian Sea to fulfill the final episode "Competition in maritime training". During the episode, the crews will conduct exercises on anchoring and buoy mooring.
The Sea Cup contest involves ship teams of the Navies of Azerbaijan, Russia, Iran and Kazakhstan. Moreover, representatives of the Armed Forces of Turkey, Saudi Arabia and Bahrain will observe the competition.
As many as 300 personnel is involved in the Sea Cup – 2017. The competition includes three stages – artillery firing, ship damage control, ship crew skills and rescue contest.
The Sea Cup is held within the International Army Games – 2017, which started in Russia on July 29. The Games, which are attended by more than 150 teams from 28 countries, will be held in Russia, Azerbaijan, Belarus, Kazakhstan and China until August 12.
Meanwhile, the Azerbaijani artillerymen successfully completed another stage of the "Masters of the artillery fire" contest, which takes place at Otar military base in Kazakhstan. As a result, the Azerbaijani team reached the final of the international competition.
Along with Azerbaijan, artillerymen from Russia, Belarus and Kazakhstan will also compete in the final contest.