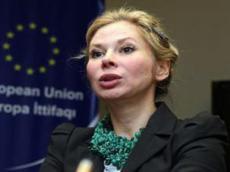 By Laman Ismayilova
The European Union hopes to soon sign a new strategic partnership agreement with Azerbaijan, head of the EU delegation in Azerbaijan, Malena Mard told Trend.
She said that the process is underway for obtaining an appropriate mandate from the EU Council.
"After the mandate is received, it will be possible to begin negotiations with the Azerbaijani side," she noted. "As you know, we have already held two meetings in this regard. We hope it will be possible to start negotiations in the near future."
Baku has recently announced that the sides finalized joint consultations on the scope of Strategic Partnership Agreement, voicing hope that the EU will come up with an official mandate to launch negotiations soon.
Documents on Azerbaijan's strategic partnership with 8 European Union member states had already been signed and adopted.
Mard went on to add that Azerbaijan and the EU need a new legal framework.
"As you know, the current partnership agreement between Azerbaijan and the EU was signed in the 1990s. This is a very old agreement and the agenda between Azerbaijan and the EU has changed drastically since then. Now we have established a deeper cooperation with Azerbaijan, and the legal framework should conform to this cooperation."
Azerbaijan has become a country of direct priority to the EU's strategy in its wider neighborhood since the last enlargement of the European Union in 2007. Although over the past year, the bilateral relations between the two sides saw tense period, still Azerbaijan affects Europe's interests, mainly in a regional energy strategy.
The cooperation of Azerbaijan with the European Union is very unique due to the already existing relations and good economic opportunities. The EU and Azerbaijan could cover the areas where they have overlapping interests, particularly energy trade. In geostrategic terms, Azerbaijan is set to see its importance due to the perspective role to act as a bridge between Europe and Asia.
Currently, the bilateral relations between the EU and Azerbaijan are regulated on the basis of the partnership and cooperation agreement, which was signed in 1996 and came into force in 1999.
The new agreement will envisage bringing Azerbaijan's legislation and procedures closer to the most important international and trade standards of the EU. This process is meant to improve the access of Azerbaijani products to the EU markets.