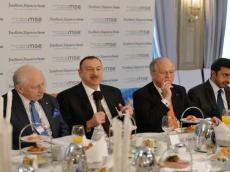 By Nigar Orujova
Azerbaijan is playing a decisive role in providing neighboring countries with energy security.
Azerbaijan's President Ilham Aliyev made the remark at "Diversification strategies" roundtable of the Munich Security Conference held last week.
The 51st Munich Security Conference gathered some 400 politicians and experts on February 6-8 to find ways out of the current crises in Ukraine and in the Middle East.
"Now after signing important agreements on Southern Gas corridor we are becoming an important partner of Europe. We have already managed to diversify our energy supply routes," Aliyev said.
The head of state went on to say: "A decade ago when Baku-Tbilisi-Ceyhan oil pipeline was commissioned we made an important step towards ensuring energy security of Europe."
"Today oil from Azerbaijan provides some 30-40 percent of the energy balance of some European countries. And now it's time for gas," he said.
The president said gas from Azerbaijan is the only new gas source, which European consumers will get in the nearest future.
"Shahdeniz field has more than one trillion cubic meters of gas. Together with other fields, our proven reserves are estimated at least 2.5 trillion cubic meters. So it is a gas project for decades, for hundreds of years. It will seriously change the energy map of Europe," President Aliyev stressed.
He invited all the high-ranking officials from all the countries involved to the first meeting of the Consultative Council of the Southern Gas Corridor which will be held in Baku on February 12.
"We need coordination and we need strong support from European institutions, at least, we should not waste our time for some bureaucratic procedures," the president noted.
"At the same time, taking into account our huge gas reserves we can incorporate countries which are not yet part of this Southern Gas Corridor, but part of Nabucco," he said.
"The amount of gas of Azerbaijan will be enough along other gas sources from the neighboring countries. Then it will be a large-scale project."
The head of state assured that the project is on the schedule. Construction work has already started, pipes have already been ordered and contractors selected.
"We are committed to implementing the first part - TANAP by 2018, TAP by 2020. But we need coordination, more support and more mutual trust between all members of the team," President Aliyev stressed.
The head of state also attended "Beyond Ukraine: Unresolved Conflicts in Europe" session of the conference.
President Aliyev made a speech and responded to questions at the session which was chaired by Slovenian President Borut Pahor.

Serbian Prime Minister Aleksandar Vucic, Georgian Prime Minister Irakli Garibashvili, Croatian deputy Prime Minister and Minister of Foreign and European Affairs Vesna Pusic also participated in the session.
During the conference, President Aliyev met with Secretary General of the Council of Europe Thorbjorn Jagland, Serbian Prime Minister Aleksandar Vucic, French Defence Minister Jean-Yves Le Drian, President of the former Yugoslav Republic of Macedonia Gorge Ivanov, President of Finland Sauli Niinistö, and President of the Islamic Republic of Afghanistan Mohammad Ashraf Ghani.
The parties discussed bilateral relations and future cooperation.