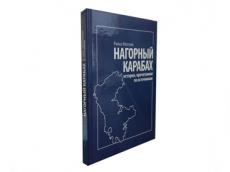 "Nagorno-Karabakh: history read through sources" book narrating on the history of the Nagorno-Karabakh dispute by full member of the Azerbaijan National Academy of Sciences Ramiz Mehdiyev has been published in Moscow. The book digs into historical sources from the antique period up until present day, causes of the conflict. It clearly indicates to Nagorno-Karabakh's belonging to the Azerbaijani states throughout the history.
The study spans the period since establishment of first states in the South Caucasus and narrates on the history of the region until the present day.
The book looks into the real history of the South Caucasus referring to the ancient, medieval sources. It proves that the Armenian ethnos emerged in the present form only in the early 19th century.
The author says that the occupation of the Azerbaijani lands in Nagorno-Karabakh reveals the problem of co-existence of the two states – Armenia and Azerbaijan – who live in different social and economic conditions.
In conclusion, Ramiz Mehdiyev expresses hope that "the Armenian national elite, as the most educated group of the nation, will take liberty to set not barbarian goals but aims bringing benefit, good, light and hope for the better future of the people since Azerbaijan will never recognize as the interstate border the dividing line, which emerged after the signing of a ceasefire agreement between Azerbaijan and Azerbaijan in 1994".

/AzerTAc/