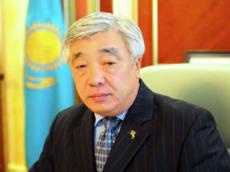 By AzerNews
Kazakh Foreign Minister Yerlan Idrisov will visit Azerbaijan in 2014, Deputy Director of the CIS Department of the Kazakh Foreign Ministry Kadir Kasabulatov told Azerbaijani reporters.
"The date of the visit has not been finalized yet," he said.
Kasabulatov noted that Azerbaijan and Kazakhstan hold regular meetings at the highest level, which give impetus to the development of bilateral relations.
"Our heads of states meet regularly both in bilateral and multilateral formats. Close cooperation has been established between the parliaments of the two countries," he said. "Bilateral relations between Azerbaijan and Kazakhstan are developing very dynamically."
"There is a considerable similarity between the positions of two sides on many regional and international issues. We actively cooperate both bilaterally and multilaterally in international and regional organizations such as the UN, OSCE, OIC, CICA, CIS, CCTS, TurkPA, TURKSOY," Kasabulatov said.
In particular, he noted that the two countries play a major role in the development of relations between Turkic states.
Kasabulatov stressed that Kazakhstan is grateful to Azerbaijan for supporting its candidacy for a non-permanent member of the UN Security Council for 2017-2018 years, as well as supporting its request for hosting EXPO-2017 international exhibition.
"I think that Azerbaijan's participation in this exhibition will be a strong guarantee for the development of bilateral investment and economic cooperation," he said.
Speaking about Kazakhstan's position on the Nagorno-Karabakh conflict, Kasabulatov noted that his country supported the peaceful settlement of regional and international conflicts, including the Karabakh problem.
"Kazakhstan also supports any measures to resolve the conflict within the UN Security Council and the OSCE Minsk Group. We hope to find a peaceful solution to the conflict and condemn any action leading to tension and aggravation of the humanitarian situation," he said.
The State Customs Committee (SCC) has announced that trade turnover between the two countries amounted to $371 million in 2013.
The export of Azerbaijani goods to Kazakhstan hit $64.2 million, while imports reached $306.7 million. Trade turnover between the two countries decreased by 5.7 percent in 2013.
The main exports of Kazakhstan to Azerbaijan are mineral resources (oil and gas), chemical raw materials, grain, barley, tobacco products, rolled carbon steel, and electrical equipment. Kazakhstan imports oil from bituminous materials, polymers and components for machinery, and prefabricated constructions.