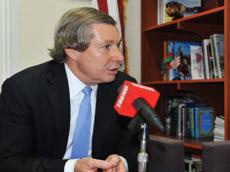 OSCE Minsk Group's U.S. Co-chair, James Warlick hopes that it is possible to hold one more summit in the near future to build on Azerbaijani and Armenian presidents' constructive dialogue in Vienna last November.
"We hope that the Presidents will accept French President Hollande's offer to meet soon in Paris," Warlick told Trend on June 24.
He went on to add that the Swiss President Didier Burkhalter's call for "structured negotiations" is also an opportunity for the sides to advance the peace process.
Touching upon the frequent ceasefire violations on the line of contact of Azerbaijani and Armenian troops, Warlick said the OSCE Minsk Group Co-chairs continue to call on the sides to reduce actions and rhetoric that could raise tensions or damage the peace process.
"There is no military solution to this conflict, and these kinds of provocations only slow progress toward our mutual goal - a peaceful, enduring settlement that will deliver the security and prosperity that the people of this region deserve," James Warlick stressed.
Asked about the OSCE Minsk Group Co-chairs' next visit to the region, Warlick said that he looks forward to continuing the talks as soon as possible.
"I look forward to continuing our talks as soon as possible, whether in the region or elsewhere, although we're still working to schedule our next engagement," he said.
The Co-chairs of the OSCE Minsk Group, Igor Popov (Russia), James Warlick (U.S.), Jacques Faure (France), Pierre Andrieu, the new co-chair from France, and the special representative of the OSCE chairman-in-office, Andrzej Kaspzyk visited Azerbaijan on May 31.
The OSCE Minsk Group Co-chairs also had a meeting with Azerbaijani leadership.
During the meeting the parties exchanged views on the current state and prospects for negotiations to resolve the Armenian-Azerbaijani conflict over Nagorno-Karabakh.

/Trend/