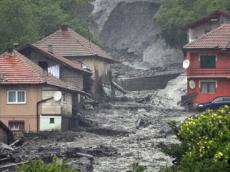 By AzerNews
Bosnia and Herzegovina received the humanitarian aid sent by Azerbaijan to help the people suffering from devastating floods.
A plane of Azerbaijan's Emergency Situations Ministry carrying humanitarian aid has touched down in Sarajevo last night. The aid includes 12 motor boats of various sizes, 260 tents, 300 camp beds, 1,500 blankets, 40 power generators, 20 water pumps, and so on.
Chief of Cabinet of the President of Bosnia and Herzegovina Bakir Sadovic and other senior officials participated in a ceremony to meet the plane.
Bosnian state and government officials, as well as UN Resident Coordinator in Bosnia and Herzegovina Yury Afanasyev thanked the Azerbaijani government for sending humanitarian aid.
Earlier, Serbia received the humanitarian aid sent by Azerbaijan. First lady of Serbia Dragica Nikolic praised Azerbaijan's humanitarian aid and thanked the Azerbaijani people and President Aliyev.
The Azerbaijani President instructed the Emergency Situations Ministry to send humanitarian aid to Serbia and Bosnia and Herzegovina that were hit by devastating floods on May 19.

***
09:15
The Serbian authorities have received humanitarian aid that arrived from Azerbaijan to help the people who suffered as a result of devastating floods.
Instructed by President Ilham Aliyev, humanitarian aid was sent to Serbia by the Ministry of Emergency Situations.
At the Belgrade airport, it was received in a ceremony attended by first lady of Serbia Dragica Nikolic, deputy Premier, Minister of Public Administration and Local Self-Government Kori Udovicki, Adviser to the President Jasmina Mitrovic Maric, deputies of Belgrade Mayor Irena Vujovic and Goran Vesic, staff members of the Azerbaijani Embassy, managers of the Serbia-Azerbaijan Chamber of Commerce and Belgrade-based Azerbaijan Culture Center, Azerbaijanis living and studying in Serbia, and journalists.
Dragica Nikolic said "the friendly people of Serbia will never forget this help". "This help will for many long years symbolize sincere relations between the two friendly peoples."
Kori Udovicki said Serbia received from Azerbaijan the equipment and items it exactly needed.
Adviser at the Embassy said humanitarian aid was a sign of "relations of friendship and strategic partnership between Azerbaijan and Serbia".
Deputy chairman of the Serbia-Azerbaijan Chamber of Commerce Dragan Vujovic and director of Azerbaijan Culture Center Zarifa Alizade praised the help of the Azerbaijani people, President Ilham Aliyev to "Serbia and its people in their hard time".

/AzerTAc/