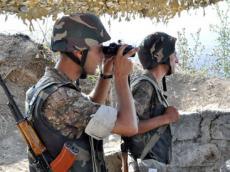 20 years have passed since ceasefire was declared between Azerbaijan and Armenia.
According to
APA
, Bishkek protocol signed between the sides on May 8, 1994, came into force on May 12 and active military operations on the line of the contact were temporarily stopped.
Russia offered Azerbaijan and Armenia to sign ceasefire agreement on May 4, 1994. Russia presented the draft agreement on ceasefire at the meeting of CIS Interparliamentary Assembly in Bishkek, the capital of Kyrgyzstan, but Armenia-Azerbaijan talks did not produce results. The main divergence was that along with Azerbaijan and Armenia, Armenian community of Nagorno Karabakh was regarded as an equal side.
On May 8, the then speaker of Azerbaijani parliament Rasul Guliyev and head of Azerbaijani community of Nagorno Karabakh Nizami Bahmanov signed the document with participation of Russian co-chair of OSCE Minsk Group Vladimir Kazimirov. According to Russia's draft, Armenian and Azerbaijani leaders were to sign "Great peace agreement" after the ceasefire agreement.
On May 19, OSCE's permanent committee on Nagorno Karabakh was established to control the ceasefire agreement.
The Azerbaijani armed forces could conduct successful strike warfare throughout the frontline beginning in December 1993. Attacking toward the southern direction of the frontline, the Azerbaijani Army liberated nearly 20 settlements of Fuzuli region, including the settlement of Horadiz, but the attacks toward Aghdam-Tartar and Murovdagh in February-March 1994 didn't give the expected result. The Armenian army deployed all it forces toward this direction of the frontline and could stop the attack of Azerbaijani army. The Azerbaijani air forces struck down on the Armenian forces in Aghdam amd Tartar in February-March. Just after that Russia interfered in the developments and ceasefire talks were started.
According to the various reports over the past 20 years of ceasefire, more than 6 thousand of Azerbaijani soldiers were shot dead by the enemy or were killed as a result of mine explosion, avalanche and other reasons throughout the frontline.