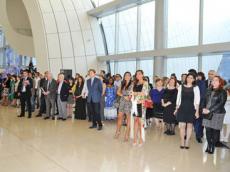 A solo exhibition by Laurence Jenkell, a recognized French artist and sculptor, has opened at the Heydar Aliyev Center.
Vice –President of the Heydar Aliyev Foundation Leyla Aliyeva and Arzu Aliyeva visited the exhibition.
The exhibition features an extraordinary way of presenting national flags through candy figures.
While art critics tend to associate Jenkell with pop-art or neo-realism, the artist herself is not given to attributing her works to any specific style. Laurence Jenkell's only goal is to create and share her works with her audience.
The artist believes that candy figures present the only type of art that affects all human senses - sight, hearing, taste, touch, and smell. As far as candy is concerned, Jenkell views it as both a simple and universal product that encapsulates personal recollections and indirect memories. It was this approach that nurtured the idea of national flags presented through candy figures, nowadays constituting a significant part of the artist's creative life.
"What I'm doing is art, not politics," Jenkell says. "My exhibitions are running in a variety of places throughout the world. So the way I want to express my respect for nations and peoples is through their national flags portrayed as candy figures."
The first display of national flags as candy figures was back in 2011 in Cannes, during the G20 Summit. National flags of the G20 together with five more flags of guest countries at the event were then presented.
Laurence Jenkell was born in France in 1965. A self-taught artist, she started crafting her works in the mid-1990's. In the course of her creative endeavors, she experimented with a broad range of techniques. Her use of plexiglass helped to master the technique known as 'wrapping', a special method of crafting candy-shaped statues, which has nowadays gained popularity throughout the world. Although she has a special preference for plexiglass, she is is also known for her works in aluminum, bronze, etc.
Laurence Jenkell's works are a great embellishment to a number of galleries, public, private and corporate collections in more than 25 countries around the world.
The artist's works are currently on display in Paris, Monaco, New York, Hong Kong, London, Seoul, Dubai and Bratislava.
The artist's first solo exhibition in Baku comprises 26 works.
/AzerTAc/