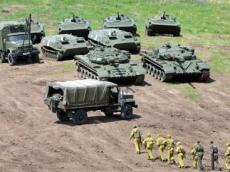 The Azerbaijani Armed Forces began large-scale military exercises in the territory of the Nakhchivan Autonomous Republic, in accordance with the combat training plan for 2014, the statement of the Azerbaijani Defense Ministry reported.
The exercises carried out with the participation of the Defense Ministry leadership, personnel units and subdivisions separate army, aviation systems, air defense forces and missile force and artillery troops including new, armored troops meeting the modern standards.
During the military exercises, the level of combat training of military units located in Nakhchivan will be examined. The possibility of using military equipment, as well as modern weapons, faster and efficient order execution, interoperable and secure organizing will be studied. At the same time, a special attention will be paid to the execution of orders, set at the various stages of combat operations.

/Trend/