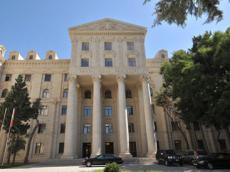 Azerbaijan stands for peaceful resolution of the crisis in Ukraine, Azerbaijani Foreign Minister Elmar Mammadyarov told journalists on March 18.
"Azerbaijan calls for solution to the problem within the framework of Ukraine's constitution, and also supports respect towards international principles, and in particular the principle of territorial integrity," the minister said.
He stressed that Azerbaijan is one of the countries that suffers from violations of the principles of territorial integrity.
The vast majority of residents of Crimea - 96 percent - voted to secede from Ukraine and join Russia, in a referendum held March 16.
Most countries refused to recognize the referendum's results.
A change of power took place in Ukraine on Feb.22.
The Verkhovna Rada (parliament) of Ukraine ousted President Viktor Yanukovych from the power, changed the constitution and scheduled presidential elections for May 25.
Yanukovych said he was forced to leave Ukraine under the threat of violence, and he remains the legally elected head of state.
A number of provinces in eastern and southern Ukraine, as well as the Crimea did not recognize the legitimacy of the Rada and decided on possibility of holding a referendum on the future fate of the regions.

/Trend/