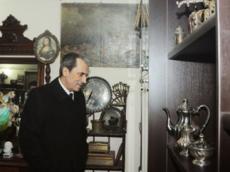 By AzerNews
Bulgarian Prime Minister Plamen Oresharski started an official visit to Azerbaijan on February 19.
As part of the trip, he visited the Alley of Honors to lay a wreath at the tomb of National Leader Heydar Aliyev.
He also put flowers at the grave of prominent ophthalmologist, academician Zarifa Aliyeva.
Oresharski also visited the Alley of Martyrs to commemorate Azerbaijani heroes who gave their lives for the country's independence and territorial integrity.
He laid a wreath at the Eternal Flame monument.
Later, the Bulgarian PM visited the National Flag Square in Azerbaijan's capital Baku and got familiar with Icherisheher.
He viewed the Maiden Tower, which was built in 7th-6th centuries BC and restored in the 12th century. The Tower, 28m in height and 16-16,5m in diameter, comprises of a cylinder-like real tower and a huge supporting construction.
The Premier viewed stone exhibits at Syrataghly Religious and Architectural Complex discovered in 1964 during archaeological excavations in the north of Maiden Tower.
He was informed about the history of Icherisheher, which was classified as a World Heritage Site by UNESCO.
Oresharski also visited the Palace of Shirvanshahs built in early 15th century and considered one of the landmark architectural monuments of Azerbaijan.
He also walked through "Kichik Gala" street.
The diplomatic relations between Bulgaria and Azerbaijan were established in the June 1992. There are very close relations between the two countries. These relations have been established in the last ten years. Political, economic, scientific, technological and cultural relations are developing rapidly. The presidents of both countries repeatedly declared their interest in the expansion of these relations.