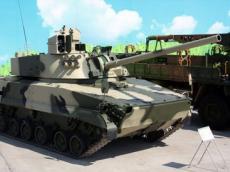 Russia will completely fulfill the agreement on the purchase of 2S31 Vena self-propelled guns with Azerbaijan by the end of 2014.
The first batch of self-propelled guns produced by Kurganmashzavod will be delivered to Azerbaijan in the near future.
The agreement signed between Azerbaijan and Russia in 2012 envisages the purchase of 18 units of "Vena" sell-propelled gun. The Vena is a development over the 120mm Nona gun with a longer firing range. The armoured artillery mount is based on the BMP-3 IFV tracked chassis.
Photos were disseminated reflecting the start of "Vena" production on Azerbaijan's request in September, 2013.

/APA/