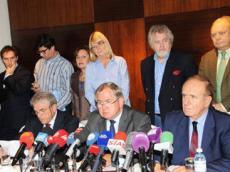 The presidential elections were free, fair and transparent in Azerbaijan, heads of PACE and European Parliament delegations Robert Walter and Pino Arlacchi stated at a joint press conference on Thursday.
"PACE and European Parliament delegations were invited by the Azerbaijani government to observe the presidential election," the statement said.
"As heads of the delegations, we congratulate Azerbaijani people on peaceful holding the election campaign and voting."
"We arrived in Azerbaijan not to measure the country's democratic development level," the observers said.
"On election day, we observed a free, fair and transparent electoral process," Walter and Arlacchi said. "Many local and international observers were observing the electoral process and this is worthy of approval. The electoral processes took place peacefully the day before the voting and on October 9."
The heads of delegations were satisfied with the Azerbaijani government's technical preparation for the elections.
"On election day, no pressure was exerted on the voters," the statement said. "There were no policemen at polling stations, as prescribed by the electoral legislation."
According to the observers, despite this, some improvements may be proposed in this sphere.
"The debates were held more freely compared to the previous elections," the observers stressed.
"Some opportunities were created for the opposition. This trend must continue in the future. The current election is its beginning. We urge the Azerbaijani government to thoroughly develop the country on the way to democracy."
According to the observers, the missions' final reports will be published by the two organizations in the coming weeks.
Azerbaijani presidential election was held on October 9. According to the results announced by Azerbaijani CEC after processing of ballots from 99.53 percent of polling stations, President Ilham Aliyev gathered 3,118,287 votes (84.59 percent).

/Trend/