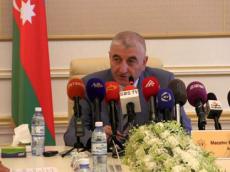 According to the information for 12:00 (local time), the voters' activity is 36.81 percent which is a sufficiently high indicator for presidential election, the chairman of the Central Election Commission (CEC) Mazahir Panahov told journalists on Wednesday.
Commenting on the question about the receiving of any complaints from the polling stations and constituencies, Panahov stressed that of course, there are appeals of different character, but the CEC hasn't received appeals about any serious violations that may affect the voting results.
"We operatively and continuously keep in touch with all constituencies. There was a case when a citizen in one of the polling stations tried to pass himself off as a representative of media. Currently, this case is under investigation," Panahov stressed.
In addition, the CEC received information that one of the voters took several ballot papers and ran away, the CEC head added.
"A voter may take only one ballot paper. Several ballots in the hands of a voter is a serious violation of criminal character, therefore this case will be thoroughly investigated," Panahov stressed.
Talking about the activity of the international observers, the CEC head said that it is early to make an official conclusion on this matter.
"According to the information received by us, the international observers visit all polling stations in Azerbaijan's regions and probably will express their opinions after the elections. As it is known, the number of the international observers is high enough and we welcome this. This shows that there is a great interest to Azerbaijan," the CEC head said.
Country's polling stations opened at 8:00 am and will close at 7:00 pm (local time).
Ten candidates are taking part in the elections including the Chairman of the New Azerbaijan Party, President of Azerbaijan Ilham Aliyev, the chairman of Umid Party Igbal Aghazadeh, self-nominated candidate MP Zahid Oruj, the chairman of the United Azerbaijan Popular Front Party (UAPFP) MP Gudrat Hasanguliyev, the chairman of the Modern Musavat Party Hafiz Hajiyev, the chairman of the Azerbaijan Social Democratic Party (ASDP) Araz Alizadeh, the chairman of the National Revival Movement Party, MP Faraj Guliyev, the candidate nominated by the initiative group of voters of the 'National Council of Democratic Forces', Jamil Hasanli, the chairman of the Adalat Party, MP Ilyas Ismayilov and the chairman of the Azerbaijan Democratic Party (ADP) Sardar Jalaloglu.
The Central Election Commission of Azerbaijan has registered 5,145,643 voters.
In connection with the presidential elections, the Central Election Commission of Azerbaijan established 5,273 permanent and 219 temporary polling stations.
Web cameras have been installed in 1000 polling stations in 119 constituencies of Azerbaijan. Unlike in previous years, this time the voting process can be monitored via mobile devices such as smartphones.
Totally, 52,000 people are observing the election in Azerbaijan, nearly 1,400 of which are international observers.
Also, the presidential election is being covered by over 70 representatives from over 20 international media outlets.

/Trend/