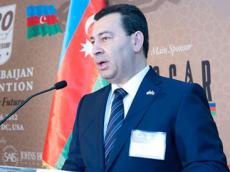 From September 30 to October 4, autumn session of the Parliamentary Assembly of the Council of Europe (PACE) will be held in Strasbourg.
The session will be attended by a group of Azerbaijani MPs led by Chairman of the Committee on Foreign Relations and Inter-parliamentary Relations of the Milli Majlis, head of the permanent delegation in the organization Samad Seyidov, Milli Mejlis (Parliament) press service told Trend on Friday.
The delegation includes the Chairman of the Committee on Legal Policy and State Building of the Milli Mejlis Ali Huseynli, the deputies Ganira Pashayeva, Sabir Hajiyev, Sahiba Gafarova and Fazil Mustafa.
The session will discuss the results of the parliamentary elections in Albania, the activities of the Organization for Economic Cooperation and Development in 2012-2013, the improvement of the monitoring procedure of the Assembly, national security and freedom of information, the activities of democratic institutions in Bosnia and Herzegovina, Moldova's execution of commitments, and the humanitarian issues of those missing in the conflicts in Europe, the problem of food security in the world and other topics.
At the event Sahiba Gafarova will make a presentation on "Combating discrimination against older people in the labor market," discussions will be held on the topic.
Head of the delegation Samad Seyidov and the Members of Parliament will speak on the agenda items at the session.


/Trend/