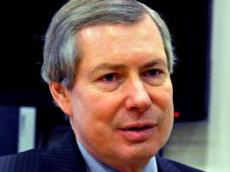 US co-chair from the OSCE Minsk Group, James Warlick is concerned about the tension on the line of contact between Armenian and Azerbaijani armies. He made this statement in his interview to VOA Armenia.
"I had an opportunity to travel with the OSCE to the line of contact. There is tension. I think where we want to go is to prevent active hostilities from breaking out. There are incidents on the regular basis, and there are people, who are killed in these hostilities," he said.
When asked about his recent visit to the region, Warlick said that he wanted to hear from all parties about the situation here.
He said all parties would like to find a way towards the peaceful settlement of Nagorno-Karabakh conflict, and all the sides are committed to the peaceful settlement and no one wants the conflict to be resumed.
"That is the worst case. We certainly do not want to see that kind of conflict again in the region. I look forward to working with all parties in finding constructive way forward that can bring durable peace," he underscored.
According to Warlick, all parties should prepare their population for peace not war. "One of the things that all parties need to work on is not just finding the settlement itself, but educating people on the settlement that can lead to greater peace and prosperity in the future," he said.
The U.S. co-chair said that there needs to be a political will of all the parties to move forward. "And what that means, is that all parties need to be prepared to accept compromises."
According to Warlick, neither side wants to see an active conflict that is certainly not in the interest of people of Azerbaijan or Armenia.
/Trend/