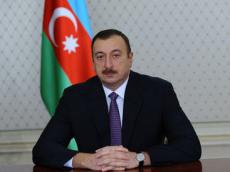 President of Azerbaijan Ilham Aliyev has today received a UK delegation led by the Prime Minister`s Trade Envoy, member of the House of Lords Lord Risby.
They praised rapid economic development of Azerbaijan in recent years. President Ilham Aliyev and Lord Risby stressed the importance of long-term fruitful cooperation between the State Oil Company of Azerbaijan (SOCAR) and BP.
They also discussed how to develop the UK-Azerbaijan relations on different fronts, including in the fields of economy, energy, trade, mutual investment making, information and communication technologies, agriculture, education, healthcare, tourism, as well as regional security.


/AzerTAg/