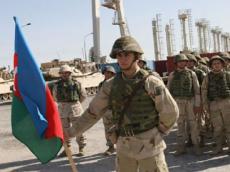 By AzerNews
A British MP has stressed Azerbaijan's role in the participation of its military personnel in the peacekeeping operation in Afghanistan.
The West should thank Azerbaijan for the contribution of its servicemen to the International Security Assistance Force (ISAF) and for Azerbaijan's continued support of NATO troops, David Davis, member of the Parliamentary Assembly of the Council of Europe from Britain, said in response to a question from the European Azerbaijan Society (TEAS) on Azerbaijan's accession to the international coalition for fighting terrorism.
A statement said that in recent years, Azerbaijan has been closely involved in peacekeeping missions in Kosovo, Afghanistan and Iraq.
According to the statement, currently, 40 percent of support for the ISAF mission is provided through Azerbaijan's territory and airspace.
"Next year, when NATO withdraws its troops from Afghanistan, the question of 'an air bridge' will become even more hotly debated. Most probably, heavy equipment will also be transported through Azerbaijan. Cargo that will be transported through Kazakhstan will now be sent through the Caspian Sea to Baku, from where it will be transported to Turkey via the Baku-Tbilisi-Kars railway," the statement said.
The peacekeeping contingent of the Azerbaijani armed forces has been serving under the NATO-led ISAF in Afghanistan since 2002. The Azerbaijani peacekeeping contingent, which consists of 90 servicemen, is serving alongside NATO forces, as part of a Turkish contingent. A company was established as part of the Azerbaijani armed forces in 1997, and then a battalion of peacekeepers.
Azerbaijan is among the eight partner countries that have confirmed their presence in Afghanistan after 2014. Peacekeepers of the country will stay in Afghanistan after the withdrawal of US troops from the country by the end of 2014. However, after 2014 Azerbaijan will reduce its contingent in Afghanistan.
In Afghanistan, Azerbaijan provides specialized training for Afghan police, border guard officers and civilian and military medical doctors. President Ilham Aliyev has stated Azerbaijan's intention to expand its partnership with the Afghan national institutions beyond 2014, highlighting the long-standing friendship between the Afghan and Azerbaijani people.
The Azerbaijani military has also assisted over the years in American-led efforts in Iraq and in the Balkans.
Moreover, Azerbaijan is an active contributor to the international anti-terror efforts. Azerbaijan and the United States are working together to counter nuclear proliferation and narcotics trafficking, and to promote security in the wider Caspian region and beyond.