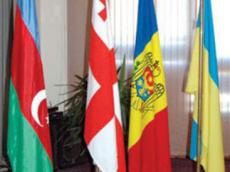 The Organisation for Democracy and Economic development - GUAM is forming a mission for the short term observation of Azerbaijan's presidential election, Secretary General of the organisation Valery Chechelashvili told Trend on Friday.
"There is a practice in our organisation: GUAM's Parliamentary Assembly to conduct the observation of an election at the invitation of a country. In this regard, the presidential election in Azerbaijan is not an exception. We will arrive in Baku on October 9," he said which is the date of the election itself.
However, due to the fact that the organisation has limited resources, it doesn't monitor pre-election situations in countries, the Secretary General added.
According to Chechelashvili, the organisation is directly engaged in the observation of the election process itself on Election Day.
The GUAM delegation will arrive in Baku on October 7 or 8, will monitor the election day and hold a press conference on October 10 in the morning where it will present relevant conclusions namely on its observation of the election day.
Currently, the staff of the observation mission is being formed which will include representatives from parliamentary delegations from GUAM countries.
The mission will be divided into two or three groups in order to visit the greatest possible number of polling stations.
"The Georgian delegation will be led by the country's vice-speaker and current chair of GUAM's Parliament Assembly Zurab Abashidze. Delegations from Moldavia and Ukraine haven't been formed yet. The mission will work in Baku, but the visit to the regions is also possible," the Secretary General noted.
The presidential election in Azerbaijan is held every five years. Azerbaijani citizens who have higher education, have been permanently residing in the country for more than 10 years, who have not been convicted on a serious crime, nor have any obligations to other states and those who do not have dual citizenship are entitled to the right to be elected to the post of president of Azerbaijan.
This year missions from PACE, OSCE, ODIHR, CIS, GUAM and other international structures will observe the election in Azerbaijan.
GUAM was established by the post-Soviet countries in 1997 during the EU presidential summit at Strasbourg. In 1999, Uzbekistan joined the organisation and left four years later. A decision was made to rename GUAM an international organisation called 'Organisation for Democracy and Economic Development - GUAM', at the body's first summit in Kiev in 2006.
/Trend/