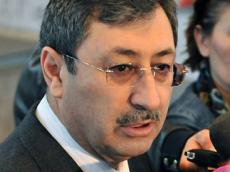 Azerbaijan is successfully carrying out good neighborly relations based on mutual interests, Azerbaijan's Deputy Foreign Minister Khalaf Khalafov said on Friday at the ASAIF XI Summer Forum (Azerbaijani Students and Alumni International Forum).
"Azerbaijan is a relatively young independent country, which has already joined the system of international relations. Today, Azerbaijan's embassies are operating in 60 countries and there are diplomatic representations in two countries, 52 embassies and representative offices of 20 international organizations are operating in Baku. The priority of country's foreign policy is the creation and development of economic relations," the Deputy Foreign Minister said.
According to Khalafov, the country managed to reach consensus in many issues of regional character and become a regional leader.
Speaking about Azerbaijan's cooperation with international organizations, Khalafov noted that next year, Azerbaijan will chair the Committee of Ministers of the Council of Europe and this will be an important step in increasing Azerbaijan's authority in world affairs.

/Trend/