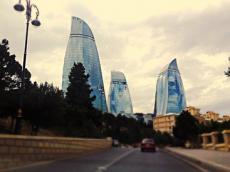 Baku will host a high-level meeting on September 4-6 organized with the support of State Committee for Work with Diaspora on the basis of cooperation agreement signed between the Madrid club and NIzami Ganjavi International Center, according to the statement by the Center issued on Monday.
According to the statement, former President of Latvia Vaira Vike Freiberga, former President of Finland Tarja Halonen, former Bolivian President Jorge Quiroga, former President of Mauritania Kassam Utim, the former President of Sri Lanka Chandrika K.Bandaranaike, former Prime Minister of the Netherlands Wim Kok, former Bulgarian President Peter Stoyanov, the Chairman of the Intergovernmental media Commission of UNESCO, Ambassador Walter Fust, Director of the Library of Alexandria, a member of the High Level Group for the UN Alliance of Civilizations, Dr. Ismail Serageldin, the president of the World Academy of Sciences Ivo Slaus and other authoritative persons.
In accordance to the results of the meeting an appeal to UN Secretary General Ban Ki-moon and UN General Assembly will be adopted.


/Trend/