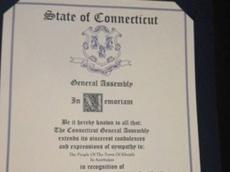 The General Assembly of Connecticut State, the USA, has issued a document recognizing the Khojaly Massacre committed by Armenian armed forces against Azerbaijani civilians in 1992.
In the proclamation, the state`s legislators offer their condolences to relatives of the people brutally killed by Armenians in the town of Khojaly in Azerbaijan during the Nagorno-Karabakh war.
The document stresses the 613 civilians had been killed in Khojaly and Armenian violence had been asserted by the international organizations as Human Rights Watch and Mass Media of the US and other countries.
The draft document was submitted by Connecticut State Senator Andrew Maynard and House of Representatives member Kevin Ryan.
Late into the night of February 25, 1992, the town of Khojaly, situated within the administrative borders of the Nagorno-Karabakh region of Azerbaijan, came under intensive fire from the towns of Khankendi and Askeran already occupied by Armenian armed forces. The Armenian forces, supported by the ex-Soviet 366th regiment, completed the surrounding of the town already isolated due to ethnic cleansing of the Azerbaijani population of the neighbouring regions. The joint forces occupied the town, which was ruined by heavy artillery shelling.
Thousands of fleeing civilians were ambushed by the Armenian forces. Punitive teams of the so-called Nagorno-Karabakh defence army reached the unprotected civilians to slaughter them, mutilating some of the bodies.
Some 613 civilians, including 106 women, 70 elderly and 83 children, were killed in the massacre. A total of 1,000 civilians were disabled. Eight families were exterminated, and 25 children lost both parents, while 130 children lost one parent. Moreover, 1,275 innocent people were taken hostage, while the fate of 150 remains unknown.