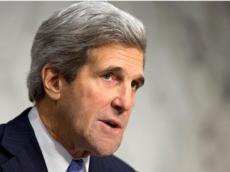 Senator John Kerry was asked written questions related to the Armenia-Azerbaijan Nagorno-Karabakh conflict and the general security environment in the region during his confirmation hearing at the Senate Committee on Foreign Relations on January 24.
John Kerry said that the status quo was unacceptable and promised that the US will continue to actively participate in the conflict resolution process, if he is appointed to the post. The candidate also said that currently the co-chairs of the OSCE continue to consider new proposals.
John Kerry also noted that US government has always supported the independence of Azerbaijan and Georgia.
The senators asked Chuck Hagel, nominated by Barack Obama to the post of Minister of Defense, written questions on Azerbaijan and the prospects of the strategic partnership between the two countries at the hearing before the Committee on Armed Services of the Senate, held on 31 January in connection with the approval of the nominations.
Chuck Hagel emphasized close cooperation between Azerbaijan and the United States in defense field and noted that in the case of appointment to the post of Minister of Defence, he will continue efforts to strengthen this cooperation.
He said the US would continue to work on reforms in Azerbaijan in the field of defense, counter-terrorism, maritime security and protection of energy infrastructure. The candidate said that they would continue with the Azerbaijani side high-level consultations to strengthen and expand cooperation, stressing the important transit role of Azerbaijan in the context of operations in Afghanistan.

/AzerTAc/