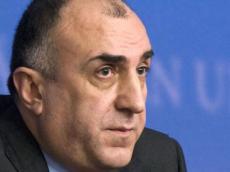 Azerbaijani Foreign Minister Elmar Mammadyarov will attend a summit of the Organization of Islamic Cooperation (OIC), which began today in Egypt, Azerbaijani Foreign Ministry said on Tuesday.
Within the summit, Mammadyarov is scheduled to make a speech, as well as hold bilateral meetings.
The OIC was founded on Sept.25, 1969 at a conference of the heads of Muslim countries in Rabat to ensure Islamic solidarity in the social, economic and political spheres, the struggle against colonialism, neocolonialism and racism and to support the Palestine Liberation Organization.
Bosnia and Herzegovina, Central African Republic, Russian Federation, as well as the Moro National Liberation Front in the Philippines and several organizations (UN, NAM, etc.) have observer status in the organization. The headquarters of the organization is located in Jeddah (Saudi Arabia).
/Trend/