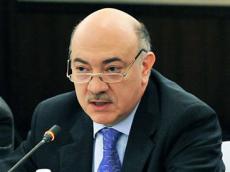 Recently, a group of individuals, falling under the influence of forces, interested in violating the political stability in Azerbaijan, attempted to disturb public order, to confuse people and to create confrontation in the society while chanting various slogans in Baku and Azerbaijani Ismayilli region, Head of the Department on Work with Law-Enforcement Agencies of the Azerbaijani Presidential Administration Fuad Alasgarov told media today.
"The events, followed by hooliganism, have been prevented rapidly, and public order has been restored," he said. "Law enforcement bodies always guard and will guard Azerbaijan's statehood."
On Jan. 23, an incident occurred in Ismayilli region of Azerbaijan. As a result of a car collision, a crowd gathered up, and shortly after the conflict has escalated.
As a result, the Chirag hotel and four different cars were burnt, four people got injured.
The city of Ismayilli is in the northeast of Azerbaijan, 174 kilometers away from Baku.
"No one should forget that Azerbaijan, which was established by National Leader Heydar Aliyev's unprecedented efforts, is a strong country, capable to make its presence felt and to repulse any destructive forces.
"This state has been left to us by Heydar Aliyev and we will not allow Azerbaijan to turn from the path of development by force of some destructive forces and got plunged into chaos and anarchy," he said. "Our people have experienced a period of turmoil, chaos and tyranny in its recent history."
"The Azerbaijani people are wise and they do not want those events to occur again," he added.
"People want to live in peace and prosperity. Sustainable socio-economic development and renewal of Azerbaijan can be achieved only in terms of stability and security."
/Trend/