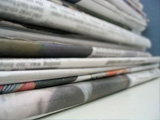 The Estonian newspaper Postimees published an interview with Azerbaijani ambassador Tofig Zulfugarov. The diplomat provided information about the dynamic development of Azerbaijan, its economic power.
On the Nagorno-Karabakh conflict, Zulfugarov pointed out that Armenia continues to disregard four UN Security Council resolutions and actively wages an information war against Azerbaijan.
On the pardoning of the extradited Azerbaijani officer Ramil Safarov, Zulfugarov noted the conflict claimed the lives of 30 thousand Azerbaijanis, of whom majority were civilians. No Armenian soldier was punished for this. He also pointed Armenian Varojan Garabedyan who committed a terrorist act in the Paris airport in 1983 went unpunished.
The diplomat said the Minsk Group`s efforts to solve the conflict over the past twenty years have been unsuccessful. It was noted that chairman Ene Ergma reaffirmed Estonia`s official position - the conflict must be solved on the basis of territorial integrity of Azerbaijan - after her meeting with refugees as part of her trip to Azerbaijan.
The ambassador provided insight into the human rights and democracy situation in Azerbaijan, adding police shot dead 12 demonstrators in Armenia after presidential elections.
He also told of Azerbaijan`s contribution to counter-terrorism operations of NATO in Afghanistan.
/AzerTAc/