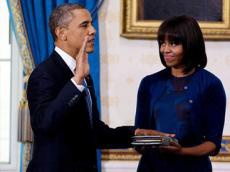 President Barack Obama was sworn into his second term on Sunday at noon in front of only his wife and two daughters in a simple service.
His younger daughter Sasha said 'Good job, Daddy!' after he correctly recited the oath of office.
'I did it!' he gleefully responded. Sure to keep him on his toes, he followed that up with a quick 'You didn't mess up!'
The swearing in ceremony took place on Sunday in keeping with the laws states in the Constitution which states that Presidents' terms begin at noon on January 20.
Normally the oath of office is given on the steps of the Capitol and is followed by his address to the nation, but because this year it happens to fall on a Sunday- and inaugurations are never held that day of the week- the oath of office was given quickly in the Blue Room of the White House instead.
Only the President's immediate family and a few relatives were present, along with a crew of journalists to witness and televise the event.
Mr Obama attended church with his family before the ceremony, and laid a wreath at the Tomb of the Unknown Solider alongside Vice President Joe Biden, who was also sworn in for his second term this morning.
Family was a theme of the morning's ceremony as Mr Biden opted to take his oath of office with his hand over a bible that has been owned by the Biden clan since 1893.
Supreme Court Justice Sonia Sotomayor swore 70-year-old Biden into his second term before she rushed off to catch a train to her hometown of New York.
/dailymail.co.uk/