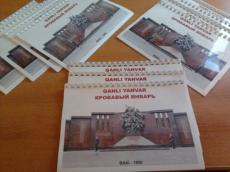 The event to mark the 23rd anniversary of the Black January tragedy was organized by the Azerbaijani Embassy in Turkmenistan.
The event was attended by the members of the Azerbaijani Diaspora, public and creative union representatives, scholars, businessmen and the Embassy stuff. The event started with a minute of silence to commemorate Azerbaijani heroes who gave their lives for the country`s independence and territorial integrity.
Ambassador Vahdat Sultanzade made remarks at the commemorate ceremony. Sultanzade briefed the participants on the history of the tragedy; Azerbaijani people`s struggle for independence and freedom, reason and results of the tragedy. They condemned the Soviet leadership`s actions against the Azerbaijani people.
Speaker noted that thanks to national leader Heydar Aliyev the tragedy was given a political and legal assessment. The memory of the 20 January martyrs will be engraved in the heart of the Azerbaijani people and will never be forgotten, Mr. Sultanzade emphasized.
The Ambassador has praised President Ilham Aliyev`s role in bringing the realities behind the January 20 massacre and Azerbaijanis` genocide to the world community, his special care for the martyrs` families. He also thanked President Ilham Aliyev for granting special allowances to the martyr families.
The orators stressed the important role of the martyrs they played for restoration of country`s statehood. Participants of the event watched a documentary on the Bloody January.
/AzerTAc/