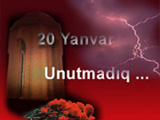 Azerbaijani Ombudswoman Elmira Suleymanova appealed to international organizations in connection with the tragedy of January 20.
According to the website of the Ombudsman of Azerbaijan, the appeal says that "this day is a day of remembrance of the Azerbaijani martyrs who died in the Black January night. It is the day of the unity of our people fighting for the country's territorial integrity.
"On the night of 20 January, Soviet troops and armored vehicles were deployed in Baku, Sumgayit and other cities and regions of our country without any warning. The Constitution of the Azerbaijan SSR was rudely violated. 147 people were killed, 744 were wounded, hundreds were missing and 841 people were arrested illegally", the statement reads.
The authors note that the Soviet Union's policy of "perestroika" massively violated the major right of people - the right to life.
"With this step the Empire provided support to Armenia conducting an expansionist policy. Ethnic cleansing was carried against the Azerbaijani people, 20 percent of Azerbaijan's territory remain under occupation, about a million of Azerbaijanis became refugees and internally displaced persons", Suleymanova said that this tragedy is highlighted by foreign media.
She notes that the victims of this tragedy are buried in the martyrs' alleys countrywide.
/AzerTAc/