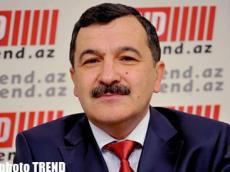 Turkey will not change its position on opening the border with Armenia, Milli Majlis (Azerbaijani Parliament) member, deputy chairman of the parliamentary committee on security and defense Aydin Mirzazade told Trend on Wednesday.
"Despite the fact that 20 years passed since the closure of border, and succession of governments in Turkey, the position on this issue has not changed and will not change in the future," Mirzazade said.
A group of Armenians periodically raise the question on the opening of borders with Armenia, he said.
"However this is nothing but an initiative. Turkey has a democratic society, so the issue of opening the border with Armenia could be brought up for discussion, but broad support of this issue is not possible," he said.
Mirzazade said today Armenia claims on Turkish lands, trying to falsify history and to impose a fictional Turkish genocide.
"The policy pursued by Armenia today has negative impact on Armenia itself in the first place. This is why it can be said that none of these initiatives will be successful," he said.
Collection of signatures for unconditional opening of borders with Armenia by Turkey was launched on the White House website in the U.S. The petition notes that the borders should be opened at least for moving Syrian refugees from Turkey to Armenia.
There is no need to move Syrian refugees from Turkey to Armenia and the opening of the Turkish-Armenian border for this purpose is currently impossible, the Disasters and Emergency Situations Directorate of Turkey AFAD told Trend on Wednesday.
The needs of Syrian refugees in Turkey are met by the Turkish government and international organizations, the agency said.
There are no diplomatic relations between Turkey and Armenia, and the border between the two countries has been closed since 1993. The reasons are that the Armenians claim for international recognition of the so-called genocide and that the Armenian armed forces have occupied Azerbaijani territories.
/
Trend
/