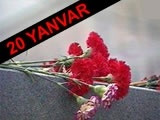 U.S. Azeris Network (USAN) started its annual letter campaign informing the American public about the events which took place in Baku on January 20, 1990, also known as Black January.
The letter provides statistical details from the book "Black January: Baku 1990. Documents and materials", referring to data from the Ministry of Healthcare of Azerbaijan SSR: By February 1, 1990, 706 people had applied for medical assistance to medical facilities of Baku. The court medical bureau had accepted 84 persons. 73 of them with gunshot wounds (16 in their backs), smashed by APCs 8, bayoneted wounds 2. By February 9, 1990, 170 people, including 6 Russians, 7 Jews, Tatars and Lezgins, had died. Among the dead are six women and 9 children. 370 people were wounded. 321 people disappeared."
The USAN statement says that on January 19-20, 1990, sovereign Azerbaijan was invaded by 26,000 Soviet troops. A courageous resistance by Azerbaijanis to the Soviet invasion continued into February. Eventually, 170 Azerbaijanis were killed, 321 disappeared (their bodies never recovered), over 700 wounded, and still hundreds more were rounded up and detained.
In a report titled "Black January in Azerbaijan", Human Rights Watch put the events into a larger perspective: "the violence used by the Soviet Army on the night of January 19-20 was so out of proportion to the resistance offered by Azerbaijanis as to constitute an exercise in collective punishment. The punishment inflicted on Baku by Soviet soldiers may have been intended as a warning to nationalists, not only in Azerbaijan, but in the other Republics of the Soviet Union.''
The Soviet attack against innocent civilians in Azerbaijan followed massacres in other Soviet republics, including Kazakhstan in 1986 and Georgia in 1989 and was tragically replicated one year later in Lithuania, although the brutality of the "Black January" tragedy was the biggest exercise in collective punishment by reactionary forces of the Communist Party.
The terrible event remembered by this commemoration was an atrocity, but it also gave birth to a hope that led eventually to independence and freedom the following year. Twenty three years later, there is no sign of "Black January" declining in significance. Millions of Azerbaijanis and friends of Azerbaijan visit Martyrs' Alley in the Azeri capital, Baku on January 20th to pay tribute to the memory of their compatriots who laid their lives for the country's independence. They lay flowers on the graves of the victims and the nation's commitment to independence, democracy and freedom.
Through USAN's letter campaign, members of Azerbaijani-American community inform the American public and call their legislators to issue proclamations and resolutions to officially commemorate the victims of January 20 by the government of the United States. The campaign will last through January 22. In the last two years, USAN has received two official resolutions on Black January from the parliaments of Texas and New York.
/
Trend
/