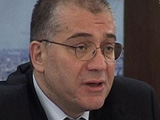 Azerbaijan`s Deputy Foreign Minister, Araz Azimov, has reiterated his country`s stance on the Nagorno-Karabakh conflict as he addressed the OSCE`s Permanent Council at the Hofburg in Vienna.
He expressed the Azerbaijani government`s concern over the fact that "the OSCE now pays less attention to the dispute against a background of the statements by the United Nations, the Council of Europe, NATO, the Organization of Islamic Cooperation and Non-Aligned Movement demanding the settlement of the conflict based on the principles of Azerbaijan`s sovereignty, territorial integrity and inviolability of internationally recognized borders".
The Deputy FM called on the OSCE member states not to be satisfied with general statements supporting the work of the Minsk Group.
Azimov proposed breathing a fresh air into the group`s activities by encouraging "for example countries like Italy, Germany, Turkey and Switzerland to contribute to the Minsk Group".
The Deputy FM stressed the importance of securing a stage-by-stage settlement of the Nagorno-Karabakh conflict.
"The Armenian armed forces must withdraw from Azerbaijan`s occupied lands, necessary conditions must be created to ensure the return of the Azerbaijani IDPs to Nagorno-Karabakh and adjacent regions. Communications must be open for all parties in the region."
Azimov noted: "Only ensuring these conditions can pave the way for an objective and normal atmosphere for defining a status for the Nagorno-Karabakh within Azerbaijan`s territorial integrity where the Armenian and Azerbaijani communities will co-exist and maintain cooperation."
The Azeri deputy FM blamed Armenia`s "non-constructive position" for the delay in achieving progress in the negotiations on basic principles, which were set out in 2004. Azimov urged the conflicting sides and mediators to direct their efforts towards preparing a road map "that will be of practical use for the settlement of the dispute".
He also stressed the importance of strengthening efforts towards confidence building between the Azerbaijani and Armenian communities of the Nagorno-Karabakh. Azimov reiterated that Azerbaijan was committed to peaceful settlement of the conflict.
/
Trend
/