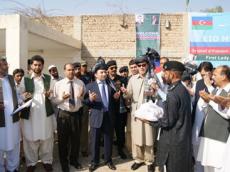 Some 250 heads of cattle were slaughtered in Lakki Marwat Tribal Area and 100 in Paraka-ho, Saidpur and Haripur villages of Punjab province of Pakistan on the occasion of Eid al-Adha and distributed among 30,000 poor people at the initiative of Azerbaijan`s first lady, President of the Heydar Aliyev Foundation, UNESCO and ISESCO goodwill ambassador, MP Mehriban Aliyeva.
The ceremony organized in Lakki Marwat brought together Chairman of Pakistan`s Senate Foreign Relations Salim Saifullah Khan, former petroleum minister, prominent politician Anwar Saifullah Khan, senator Osman Saifullah Khan, member of the National Assembly Humayun Saifullah Khan, political and religious figures of the region and journalists.
Salim Saifullah Khan spoke about friendly and fraternal relations between the two countries, the Armenia-Azerbaijan Nagorno Karabakh conflict and Pakistan`s position on this dispute.
He hailed the Heydar Aliyev Foundation`s event in Pakistan, describing it as a vivid evidence of friendship and brotherhood between the two countries.
Azerbaijan`s ambassador to Pakistan Dashgin Shikarov congratulated the event participants on Eid al-Adha on behalf of the Azerbaijani state.
The diplomat briefed the participants on the large-scale projects implemented in Azerbaijan and abroad by President of Heydar Aliyev Foundation Mehriban Aliyeva.
As part of Eid al-Adha celebrations, Shikarov visited the Women`s and Children Hospital in Lakki Marwat financed by the Heydar Aliyev Foundation, gave presents to the patients and medical staff on behalf of Azerbaijan`s first lady Mehriban Aliyeva.
AzerTAc
/