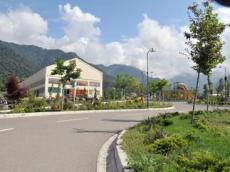 More than 100 representatives from different countries, who participated in the second Baku International Humanitarian Forum, have visited Gabala, an ancient city of Azerbaijan.
The participants visited the Gilan piano factory where they viewed production process. The piano factory produces world-class pianos under the brand name Beltman. The factory is one of the new industrial structures contributing to the development of non-oil sector of the Azerbaijan economy. The factory has 6 rooms with special equipment where pianos having remarkable quality and a unique, sweet singing tone, are being manufactured.
The production of Beltmann pianos was launched as three pianos were made in the factory in September 2009. Beltmann pianos are made only in Gilan factory in Gabala. The factory will produce 1200-1500 pianos a year.
They also visited Gilan canning factory, with a total area of 12 hectares. The facility was inaugurated in 2007. The factory manufactures nearly 100 types of products, which are exported to more than 30 countries.
The participants also visited the Gafgaz Resort, Gafgaz Riverside, Gafgaz Ganjlik hotels and other must-see-places of Gabala.
/AzerTAc/