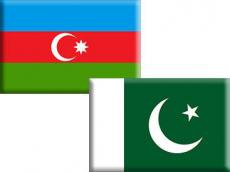 The Azerbaijani Ambassador to Pakistan Dashqin Shikarov met with newly appointed Air Defense Commander of Pakistan, Air Marshal Tahir Rafique Butt.
The Azerbaijani Embassy in Pakistan reported that Dashqin Shikarov congratulated Butt on his appointment and wished him success in his honorable work. They exchanged views on the current relations between Azerbaijan and Pakistan and discussed the Nagorno Karabakh conflict.
Shikarov briefed Butt that both Azerbaijani administration and people highly appreciate adoption of the resolution by Pakistani Senate on recognition of Khojali genocide and territorial integrity of Azerbaijan.
The sides also discussed the aspects of military partnership between Azerbaijan and Pakistan. The chief of the Pakistani Air Forces said his country directly supports Azerbaijan in Nagorno Karabakh conflict adding that Pakistan does not only refuse to build diplomatic relations with Armenia but also refuses to recognize it because of its invasion policy. Tahir Butt stressed that Pakistan will stand for Azerbaijan until its occupied territories are fully liberated.
/
APA
/