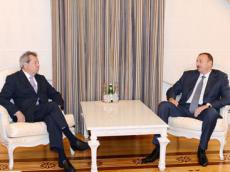 President of Azerbaijan Ilham Aliyev has today received chairman of the committee on international relations of the Chamber of Deputies of the Mexican Congress Porfirio Muñoz Ledo.
The Head of State praised bilateral relations between Azerbaijan and Mexico. President Ilham Aliyev said cooperation between the two countries had been rapidly developing in recent years.
The President noted Azerbaijan and Mexico were actively cooperating within international organizations. The Head of State said the two countries enjoyed good opportunities for expanding economic and cultural ties even more.
President Ilham Aliyev stressed the importance of Porfirio Muñoz Ledo`s visit to Azerbaijan.
The Azerbaijani leader also underlined the importance of interparliamentary relationship for developing bilateral ties.
Porfirio Muñoz Ledo recalled his acquaintance with President Ilham Aliyev at the Parliamentary Assembly of the Council of Europe.
He expressed pleasure with his visit to Azerbaijan. Porfirio Muñoz Ledo praised development processes in Azerbaijan, saying he was deeply impressed by them.
AzerTAc
/