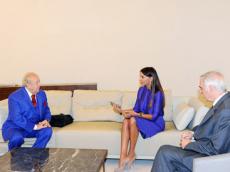 President of Azerbaijan Ilham Aliyev has today received a delegation led by head of the Azerbaijan-Argentina friendship group at the Argentine Chamber of Deputies Roberto Mario Mouilleron.
They stressed the importance of Baky International Humanitarian Forum, expressing confidence it will contribute to developing global humanitarian cooperation.
They praised the Azerbaijan-Argentina relations, saying they were developing in all areas, including in the political, economic and cultural ones.
They also emphasized the importance of interparliamentary cooperation, and said reciprocal visits contributed to developing the bilateral relations.


22:08
*****
18:46
Azerbaijan`s first lady, head of the Heydar Aliyev Foudnation, UNESCO and ISESCO Goodwill ambassador Mehriban Aliyeva met Bulgaria`s ex-president Georgi P?rvanov, who partakes in Baku International Humanitarian Forum.
Azerbaijan`s first lady praised Baku International Humanitarian Forum as a momentous event. Mehriban Aliyeva expressed her confidence the issues to be discussed and resolutions to be adopted at the event will be realized.
The first lady stressed the role of cooperation in the humanitarian field in modern world.
P?rvanov thanked for invitation to the forum and hospitality. He said there has been always a useful dialogue between Azerbaijan and Bulgaria. Bulgaria`s ex-president expressed his confidence this dialogue will be continued in the future.

*****
18:10
First Lady of Azerbaijan Mehriban Aliyeva met with the ex-president of Bulgaria Peter Stoyanov, who is in Baku to partake at the International Humanitarian Forum.
Greeting Mr. Stoyanov, president of Heydar Aliyev Foundation stressed importance of the Forum, expressing confidence for its success.
Prospects of cooperation between Azerbaijan and Bulgaria, realization of joint projects of the youth organizations, organization of cultural events and other questions were in focus.
Azerbaijan's First Lady meets Bulgaria's former president
Azerbaijan`s first lady meets Bulgaria`s ex-president Georgi P?rvanov
Azerbaijan's First Lady Meets President of Russian Academy of Arts
/
AzerTAc
/