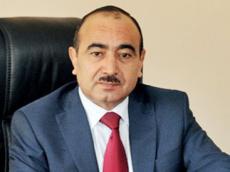 Russian Azerbaijani international humanitarian forum, which will take place in Baku, sets a goal to promote, spread and contribute to the use of innovations in the fields of education, culture and some other spheres in Azerbaijan, from one side, and stimulates the development of these fields in Azerbaijan, demonstrates achievements and approves the work in this field, from the other side, Head of Azerbaijani Presidential Administration Social and Political Department Ali Hasanov told journalists on Tuesday.
In his words, organizational work of Baku International Humanitarian forum, including the discussion issues, are coordinated jointly by Russia and Azerbaijan.
Around 600 representatives from 100 countries, over 10 Nobel laureates, 15 ex presidents, the heads of governments, ministers, well known figures in the fields of education, science and culture among them, Hasanov noted.
In his words, Baku declaration will be adopted following discussions of different fields, held at plenary meetings as well as department meetings in the framework of first and second days of forum.
Within 2 days the forum participants will participate in events, organized in Azerbaijani regions by central executive agencies, in meetings, organized by agencies on social and economic development of Azerbaijan.
II Baku International Forum with participation of 694 people, representing 70 countries and 7 authoritative international organizations will be held in Baku on October 4-5.
The first Baku International Humanitarian Forum under the slogan 'XXI century: hopes and challenges' took place in October of 2011. The forum organizers are Azerbaijani president Ilham Aliyev and Russian president Vladimir Putin.
Baku International Humanitarian Forum is an authoritative science and political global platform to search answers for global challenges, which were faced by humanity in XXI century, the holding of a wide range of dialogues, exchanges of opinions and discussion on the most important issues of humanitarian cooperation.
/
Trend
/