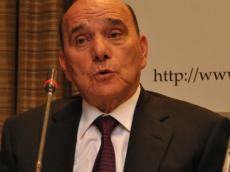 Azerbaijan has achieved serious progress in cooperation with Europe in political dialogue, Elkhan Suleymanov, President of the ACSDA, MP, Chairman of the Azerbaijani Delegation to the Euronest PA, and member of the Azerbaijani Delegation to PACE, believes.
"Azerbaijan has succeeded in political dialogue with Europe, harmonization of legal systems, and cooperation in economic, public, and cultural spheres. Azerbaijan has become a strategic partner in the provision of energy security of Europe," Suleymanov said in the international conference "Building bridges" organized by the Association for Civil Society Development in Azerbaijan (ACSDA) and the Institute for European Affairs (INEA).
He said it is obvious from the title of the conference that we're interested in building the bridges of friendship and cooperation with European and world countries. Therefore, Azerbaijan has accepted the comprehensive integration into Europe as its major direction, Suleymanov said.
"At the same time, visa liberalization, development of EU's different educational programs in Azerbaijan, as well as mutual exchange of students and professors, realization of joint scientific-research work, as for sport - high level organization of various competitions in Azerbaijan, for example, FIFA U-17 Women's World Cup, which is recently being held in our country, are an obvious evidence of the approximation of our people and societies," he said.
According to Suleymanov, Azerbaijan has repeatedly proved that it's Europe's sincere and reliable partner.
"We are a young democracy, but we confidently and willingly integrate into Europe. Moreover, Azerbaijan rightfully wants to be valued as an equal partner in cooperation and partnership relations," MP said.
Suleymanov stressed with regret that unfortunately, in practice Azerbaijan faces double standards and discrimination in some issues instead of an equal partner and objective attitude.
"Nagorno Karabakh tragedy - this is not a conflict, but an armed aggression of Armenia against Azerbaijan and occupation of Azerbaijani territories. They're aggressors, and we're subject to aggression. International organizations, as well as European structures recognized these facts and adopted resolutions on the unconditional withdrawal of Armenian armed forces from the occupied territories and the provision of the rights of internally displaced people to return their homes and live safely. Nevertheless, decisions of international organizations on the occupation remind yellow papers in the archives of these organizations," Suleymanov said.
He said one cannot see any results of the OSCE Minsk Group's activity, which deals with the settlement of the conflict for 20 years. At present, Armenians act aggressive in the world. Their power is related with the fact that international organizations keep silence and in most cases defend them unfairly.
Suleymanov said existence of discrimination and double standards towards Azerbaijan in the European institutions is seen in the issue of political prisoner too. Since the membership of Azerbaijan in the Council of Europe, this issue is being applied only to Azerbaijan within 47 Member States.
"Messengers of democracy and defenders of rule of law will discuss rapporteur Mr. Straesser's report on criteria only after long years demand of Azerbaijan, in the CoE session on October 3 when there is no legal document and criteria of CoE on political prisoners," he said.
Suleymanov said all influential institutions of the world continue their political pressure on Azerbaijan regarding Ramil Safarov.
"During recent years, Armenians have killed thousands of Azerbaijani civilians - children, elderly people (they are not soldiers) and not a single Armenian murderer has been punished. Regretfully, the issue on these crimes raised by Azerbaijan was ignored by CoE, European Parliament and international organizations," he noted.
"We believe that young democratic country should be approached not for political pressures, but for cooperation," he stressed.
The conflict between the two South Caucasus countries began in 1988 when Armenia made territorial claims against Azerbaijan. Armenian armed forces have occupied 20 percent of Azerbaijan since 1992, including the Nagorno-Karabakh region and 7 surrounding districts.
Azerbaijan and Armenia signed a ceasefire agreement in 1994. The co-chairs of the OSCE Minsk Group - Russia, France, and the U.S. - are currently holding the peace negotiations.
Armenia has not yet implemented the U.N. Security Council's four resolutions on the liberation of the Nagorno-Karabakh and the surrounding regions.
/
Trend
/