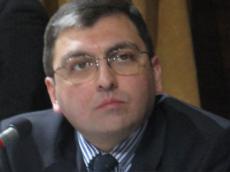 Azerbaijan seriously concerns about the escalation of violence and decline of economical and humanitarian situation in Syria", said deputy chairman of Azerbaijan delegation to UN Tofig Musayev at UN Security Council's session dedicated to Syria, APA reports.
Recalling that the occasionally happened incidents turned into severe conflicts when the crisis was faced and that it resulted in the death of thousands of people, the diplomat said that the violation of human rights must be seriously investigated and the criminals must be punished according to the crimes they committed.
Msayev said that the number of refuges placed in the neighboring countries really increased, security and humanitarian situation has seriously declined: "The concern that the state's crisis has rather bad influence on the neighboring countries must be seriously treated and this country must given relevant assistance and support. Practical measures must be taken in order to prevent all the attempts of organization and the usage of separatist activity against other, especially neighboring countries".
Musayev mentioned that the crisis must be settled according to the principles of integrity and independence"
/
APA
/