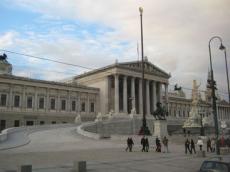 On October 26-27, 2012, Azerbaijani students getting education in the European countries will hold a forum entitled "The Armenian-Azerbaijani Nagorno Karabakh conflict" in Vienna.
Press secretary for the Azerbaijan Youth Foundation Aynur Hasanzadeh said that the forum will be organized by the Ministry of Foreign Affairs, Ministry of Youth and Sport, Center of Strategic Research under the President of the Republic of Azerbaijan, the Embassy of Azerbaijan in Austria, the Youth Foundation under the Ministry of Youth and Sport, the Public Union of the Azerbaijani Community of Nagorno Karabakh region of Azerbaijan and ASAIF. Azerbaijani officials and experts will hold discussions about the historic aspects of the Armenian-Azerbaijani conflict, legal, humanitarian and other aspects of the negotiation process.
To participate in the forum, Azerbaijani students, attendees of master and doctorate programs in Europe must fill online application forms and send to vyanaforum@gmail.com . The forms are available at http://youthfoundation.az/vyanaforum/
Application deadline expires on September 10, 2012.
/
APA
/