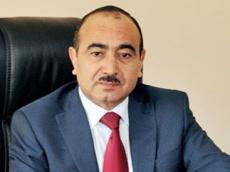 Azerbaijani journalists play an important role in forming public opinion, Azerbaijani Presidential Administration Social and Political Department Head Ali Hasanov said on Sunday, at the award ceremony of writing competition, organized by the Fund of State Support for Media Development under the President of Azerbaijan, dedicated to the 137th anniversary of the national press.
"For many years on July 22 we bring together leading representatives of the main ideas of the Azerbaijani society as editors, journalists, scientists working in the field of media, teachers, media intellectuals and spend their holiday together. Tradition laid by national leader Heydar Aliyev and this tradition has continued for many years. In the 1995 in connection with the celebration of the 125th anniversary of the national press, for the first time President Heydar Aliyev signed a decree on the state level, and in fact from 1995, 22 July became the day of the national press in Azerbaijan on the state level", - said Hasanov in a statement.
According to him, this event brought together people who form an opinion of the Azerbaijani society, create a link between civil society and government, and pass for the public policy of the leadership of Azerbaijan, also passing through the press and radio relevant to policy.
"It is at all times been advanced by people who have played an important role in forming public opinion. If 137 years ago, Hasan Bey Zardabi leading press figure, intellectual, creating, rolled up sleeves the first example of the national press, knew that he would have so many followers, he would have been proud of his work. Zardabi, creating a national press, has many difficulties, not everyone could managed up with idea, would have gathered 5-10 intellectuals around one goal and give the world their thoughts to public. Therefore, the national daily press is connected with name of Hasan Bek Zardabi, and newspaper "Ekinchi" created by him- said Hasanov.
/
Trend
/