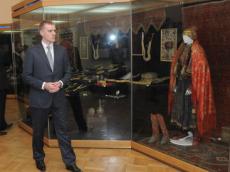 Prime Minister of Montenegro Igor Luksic yesterday visited the Gala Archeological-Ethnographic Museum Complex near Baku as part of his trip to Azerbaijan.
The Prime Minister was told that the complex created at the initiative of President of the Heydar Aliyev Foundation, UNESCO and ISESCO Goodwill Ambassador Mehriban Aliyeva was designed to preserve historic past of Azerbaijan and make the country one of the world`s most attractive tourism centers.
It was mounted in the area of the Gala Sate Ethnographic Preserve created as early as 1988. Covering an area of 156 hectares, the preserve contains burial mounds, crypts, dwelling houses as well as 4 storage pools, ruins of an ancient palace, 5 mosques and 3 bath-houses dating back to a period between 3rd Millennium BC and 20th century.
The Museum Complex itself covers an area of 2 hectares and stores rock paintings, ceramics, weapons, jewelry and other unique exhibits dating back to a period from 3rd and 2nd millennium BC and the Middle Ages.
The Premier toured the complex and he was told that together with its nearby area the Gala settlement is home to 215 archeological monuments. He viewed Gavaldash, an ancient wedding palace, the model of a merchant`s house, as well as archeological findings. 


*****
Prime Minister of Montenegro Igor Luksic yesterday visited the National History Museum of Azerbaijan. The Prime Minister was informed on the history of the museum.
The museum was built in 1895-1897 and it was the residence of famous entrepreneur and philanthropist of Haji Zeynalabdin Tagiyev. The building began its activity as a museum in 1920.
Igor Luksic viewed the displays concerning Albania, Atropatene and Shirvanshah, historical states in present-day Azerbaijan.
The museum operates as a scientific research and cultural enlightenment institution under the Azerbaijan National Academy of Sciences (ANAS). About 300 thousand patterns immortalizing the history of Azerbaijani nation are saved in various funds of the museum.
The Premier also familiarized himself with items of the Memorial House-Museum of Haji Zeynal Abdin Tagiyev. Igor Luksic signed the museum`s guests book and was presented a keepsake.
/
AzerTAc
/