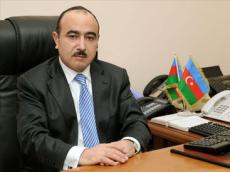 The intergovernmental agreement on Trans-Anatolian (TANAP) gas pipeline project signed between Azerbaijan and Turkey will contribute to ensuring the global energy security, Azerbaijani Presidential Administration Social and Political Department Chief Ali Hasanov told Trend today.
"TANAP project has three important features," he added.
"First of all, this project aims to improve the economic component in implementing the energy security projects, further strengthening the partnership and close economic rapprochement between Turkey and Azerbaijan which are two brotherly and friendly countries," he added.
"Second, the project is designed to supply large gas reserves extracted in the Azerbaijani section of the Caspian Sea to the European market via Turkey," he said. "The volume of these reserves is not small. Today, the volume of proven gas reserves in Azerbaijan hit 2.6 trillion cubic meters. The project also involves first hand gas sale and directing the profit to develop Azerbaijan and Turkey, respectively."
"Third, TANAP will contribute to the world energy security in the third millennium, the expansion of cooperation in the South Caucasus, including Azerbaijan, Turkey, Georgia, Turkmenistan and other Caspian countries, diversification of the world's gas export routes, increasing the liquefied gas supply," he added.
Azerbaijan and Turkey signed an intergovernmental agreement on Tuesday to implement the TANAP project worth about $7 billion. The document was signed with the participation of Azerbaijani President Ilham Aliyev and Turkish Prime Minister Recep Tayyip Erdogan.
Turkey and Azerbaijan signed a memorandum of understanding in December 2011 to establish a consortium that will build a gas pipeline to deliver gas from the Azerbaijani offshore field Shah Deniz to Europe via Turkey. At present, a 20 percent share in TANAP belongs to the Turkish BOTAS, 80 percent - to the State Oil Company of Azerbaijan (SOCAR).
The initial capacity of the pipeline is expected to reach 16 billion cubic meters a year. About six billion cubic meters will be delivered to Turkey, and the rest - to Europe.
/Trend/