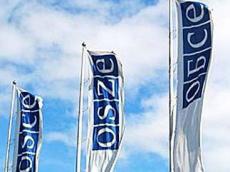 Regular meeting of the OSCE Permanent Council took place in Vienna. Speaking at meeting, the permanent representative of France to OSCE brought to attention of meeting participants the statement adopted by heads of the OSCE Minsk Group cochairmen countries at the G-20 Summit in the Mexican city of Los-Cabos related to the Armenia-Azerbaijan, Nagorno-Karabakh conflict.
Azerbaijan's permanent representative in OSCE, Ambassador Galib Israfilov, commenting the mentioned statement, said that the Los-Cabos statement shows the high attention which the co-chairmen countries pay to the settlement of the conflict. Israfilov noted that the position of Azerbaijan on settlement of the Nagorno-Karabakh conflict is known to OSCE member countries. Official Baku considers that the problem should be solved within the principles of international law, the resolutions of the UN Security Council on this conflict.
Israfilov noted that for achievement of progress in the course of the peaceful solution of the Nagorno-Karabakh conflict first of all the armed forces of Armenia should leave the occupied Azerbaijani lands. Only after that between the parties there can be a rapprochement in all spheres, and the positive results can give the measures for establishment of mutual trust between the Azerbaijani and Armenian communities of Nagorno-Karabakh.
The diplomat stated that stay of the armed forces of Armenia in occupied territories interferes with establishment of relations between two communities, and also to return of IDPs to native lands and promotes saving of the existing status quo in the solution of the conflict.
The ambassador urged the OSCE member countries not to remain indifferent to the fact of occupation of the Azerbaijani lands and render pressure upon Armenia to withdraw military forces from the occupied lands.
/
AzerTAc
/