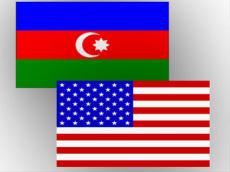 On Friday the Azerbaijan University of Languages (AUL) hosted an event dedicated to the fifth anniversary of the opening of the American Center in Baku.
AUL Rector, Professor Seyidov spoke about the importance of the Center.
He said the center has done a great job for five years.
Speaking about the relations between Azerbaijan and the United States, Seyidov noted that the two countries are not only strategic partners, but also strategic friends.
American and Azerbaijani soldiers in Afghanistan are fighting together against terrorism, the rector said.
U.S. Charge d'Affaires in Azerbaijan Adam Sterling said the center has been working very successfully since its establishment.
He said the center plays a very important role in the development of relations between Azerbaijan and the United States.
Each year about 40,000-50,000 people visit the Center. Not only Azerbaijanis study here the U.S. culture, but also the Americans study the Azerbaijani language and culture. To this end, 12 Americans will arrive in Azerbaijan this year, Sterling said.
At the end of the event Adam Sterling and Samad Seyidov signed a memorandum of understanding to continue the activities of the center.
/
Trend
/