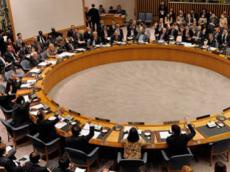 Press office of Azerbaijan's Permanent Mission to the UN issued a statement over the biased reports of Armenian media on the UN Security Council meeting devoted to reports of committees on combating terrorism.
According to the statement, during the meeting on May 10 Armenia's permanent representative to the UN, in a clear disregard for the Security Council's procedural rules, tried to make an address without submitting a written request to the Security Council President (who currently is the representative of Azerbaijan). After the president became aware of this intention, he demanded, in accordance with the rules of the Security Council, the formal letter to be submitted to him.
"Media reports quoted the Armenian Foreign Ministry's press service as stating that Azerbaijan allegedly gave the floor to Armenia under the pressure of other states. In fact, besides from spreading false information, the opposite party withholds that after the request by the Council President Armenia's Permanent Mission had to submit a formal letter several minutes before the end of the meeting, and only after that the Armenian ambassador was allowed to make an address", the statement pointed out.
It also emphasizes that during the meeting the Armenian representative, in an abuse of the given opportunity, made a speech that was unrelated to the topic of the discussion and was of a slanderous and absurd nature, which caused surprise and dissatisfaction of the Council members and other countries.
"Another thing that Armenian permanent representative "forgot" to tell the media, is that the Azerbaijani representative expressed regret at the unfounded accusations made by the representative of Armenia, and brought to the attention of the Council, that this country had conducted terrorist activities against Azerbaijan, and that the relevant information was circulated at the UN", read the statement.
/
Trend
/