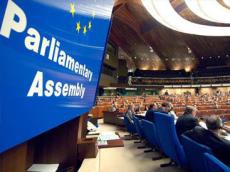 PACE co-rapporteurs will present a report on Azerbaijan by late 2012, co-rapporteurs of the Monitoring Committee of the Parliamentary Assembly of the Council of Europe (PACE) on Azerbaijan Joseph Debono Grech and Pedro Agramunt told reporters at a press-conference on Thursday as a result of their visit to Azerbaijan.
Speaking on the commitments that Azerbaijan undertook when joining the PACE, Agramunt noted the country is going in the true way, is doing its job.
"Additions and amendments were made to several laws and we believe Azerbaijan is going in the true way," he said.
The co-rapporteurs noted they discussed the Armenian-Azerbaijani Nagorno-Karabakh conflict at their meeting with the Azerbaijani officials. During their visit, the co-rapporteurs also met with refugees and IDPs.
"We had a lot of conversation about the Nagorno-Karabakh, including the situation of almost one million refugees and IDPs in Azerbaijan and we express our deep concern about the life loss in the territories close to contact line and think this is not a frozen conflict," the co-rapporteurs said.
/
Trend
/