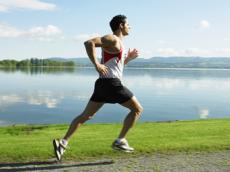 Love to chase after the kids? Or just feeling a burst of energy to take a quick run? Having those running moments daily can reduce the risk of premature death, and extend life up to three years. A cardiovascular study recently closed after reviewing a panel of 55,137 adults, aged between 18 and 100 years old. The study reports the average age was 44-years-old. Over the course of 15-years, researchers stated 1,217 cardiovascular deaths were reported, another 3,413 all cause deaths were also noted. Of the participants, researchers said 24 percent of them ran daily.
Comparing those numbers against the non-running participants, researchers reported up to a 45 percent decrease of risk in runners having cardiovascular issues, resulting in death or dying prematurely due to all-cause reasons.
Researchers state the runners were not marathon professionals, rather some calculated 51 minutes or less of running weekly. That would amount to just slightly over seven minutes of running, seven days a week.
Based on the findings, the experts reported that even running five to 10 minutes daily can reduce the risk of premature death from all causes, and cardiovascular diseases. The study published in the Journal of the American College of Cardiology, is to motivate individuals to start moving, and maintain a healthy lifestyle.
The study shows a lower requirement than recommended by the World Health Organization (WHO), showing any movement is a positive one in the way of health.
For participants who engaged in a pattern of running for over five years, they showed the greatest marks of health, experiencing up to a 50 percent decrease from strokes or heart attacks, leading to death.
Running is a vigorous activity, stated lead researcher Duck-chul Lee PhD, and may come with injury, but he encourages movement in itself is the greatest benefit for health. He encourages individuals to involve more than just a forced run. Rather, enjoy the run for fun or even socializing.

/AzerTAc/